Doctor Letterhead Template For Google Docs & Word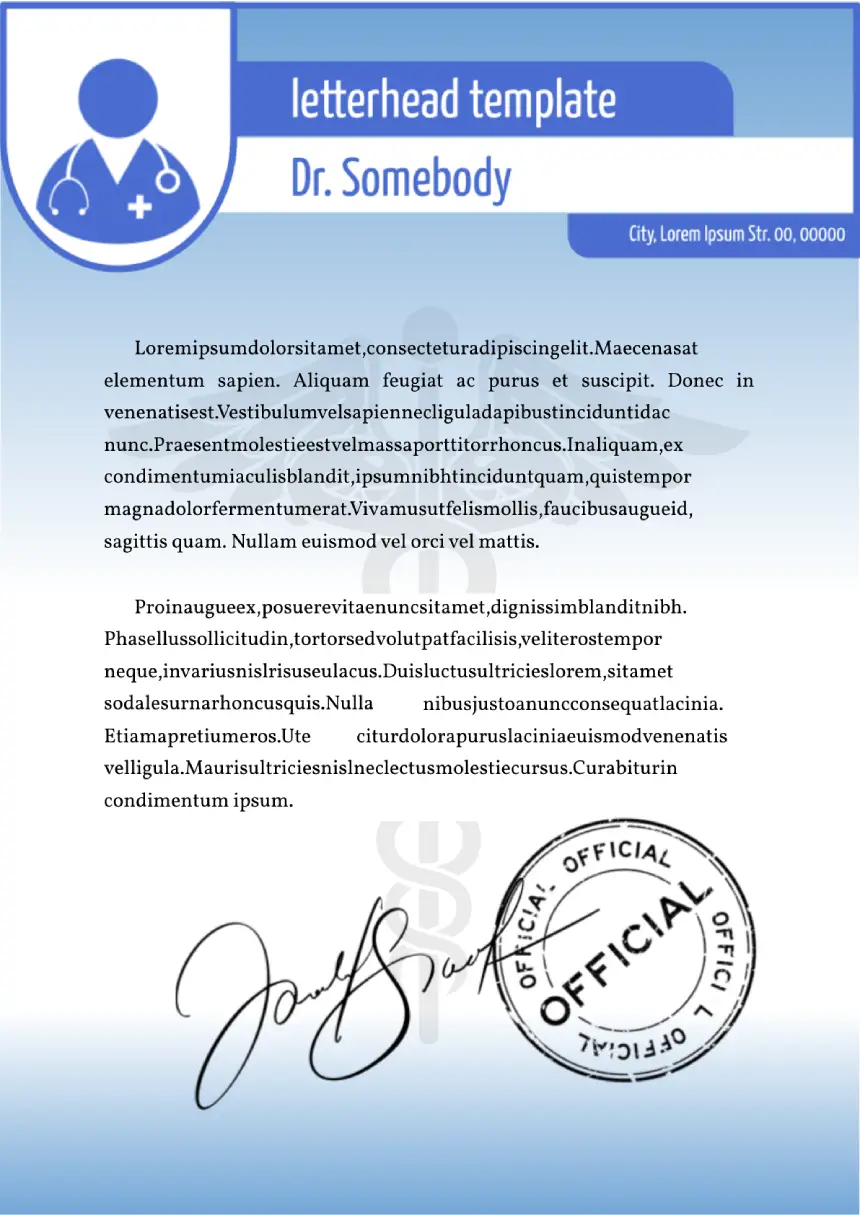 Most of the doctors have particular techniques to communicate with patients and colleagues. This approach represents a basis for sharing the crucial methods of the treatment process occurring during the interaction with the patients. The use of the doctor letterhead template for Google Docs is the primary approach for the doctor to confirm the identity of his/her appeal.
This document is a part of the serious intents and veracity of the response and appeal written by the doctor. The creation of this type of the document needs the use of the specific skills and knowledge to follow the requirements of the branding style chosen by the specialist and medical institution representing a workplace.
The doctor letterhead can eliminate this problem by allowing the users to interact with the already developed structures and design of the documents for further editing. The templates can involve such benefits as:
An opportunity to share the necessary content
Abilities for quick editing of the file
Nuances for the reflection of branding symbols
Place to write the contact information
The users will have no necessity to search for the outsourcing specialists to fulfill this task. The doctor letterhead template for Google Docs gives you a chance to save time, effort, and financial resources by obtaining the advanced results. Furthermore, the templates will allow you to introduce any innovations into the files any time.
This process needs a few clicks and minutes of your time to finish. Just use your opportunity to improve the effectiveness of your working process by following the brand identity of certain medical institutions by using templates for the creation of the nuances for the doctor letterhead. The users will have a chance to save the time to create this document by paying attention to the process of patient treatment.
freely? - free

freely? - free

Letterhead Сommunity Service Template

The use of a letterhead community service template for Google Docs provides an opportunity to avoid this issue by having no need to spend additional time to complete the tasks related to the development of letterheads!

freely? - free

Personal Letterhead Template

The use of a personal letterhead template for Google does not require the need to have special skills and knowledge in the area of graphic design and text editing!

freely? - free

Santa Letterhead Template

The process of writing a letter to this magical character represents an integral part of the New Year's routine!