Letterhead Сommunity Service Template For Google Docs & Word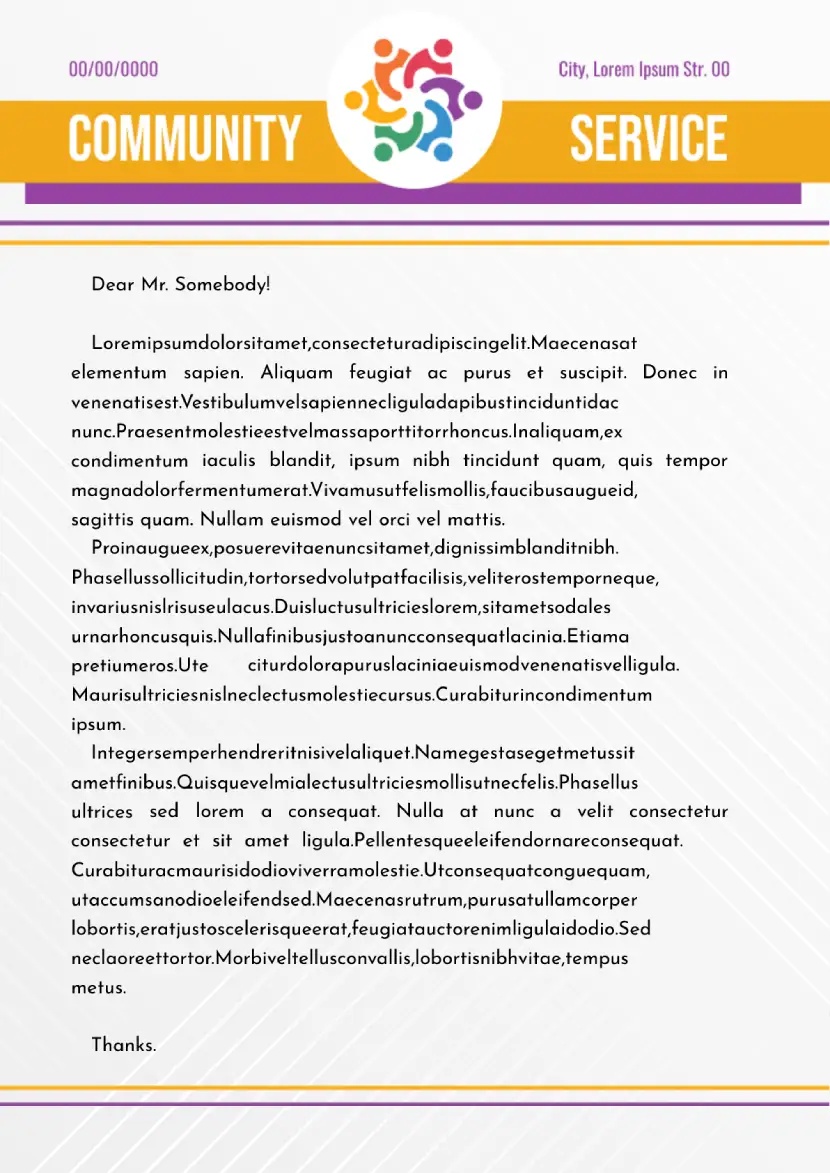 It is normal to have a desire to help people. These emotions represent a prerequisite for the development of harmony in society. This kind of ideology turned into a basis for the development of different kinds of community service promoting the positions of the volunteers. These communities can take part in the organization of certain events and companies aimed at supporting people who need help.
The use of the letterhead community service template for Google Docs gives a chance to save time and effort needed to complete this type of the routine tasks by focusing on the main directions of the activities. The templates can benefit the communities engaged in such activities as helping:
Elderly people
Poor families
Orphans
Homeless animals
As a general rule, the development of this kind of documents requires the presence of specific skills and experience. In this case, the specialists have to postpone the fulfillment of their basic duties.
The letterhead community service template for Google Docs provides an opportunity to avoid this issue by having no need to spend additional time to complete the tasks related to the development of letterheads. In this case, the volunteers will have an ability to help more people by minimizing the efforts spent on maintaining the image of the organization.
However, this point is also significant. The use of the letterhead templates can harmonize the working process by increasing its effectiveness. This approach will have a positive impact on the obtained results of the working procedures by leading to the achievement of the productive results. You will enjoy the process of the creation of letterheads by having no issues caused by it. Do not lose your chance to be more productive.
freely? - free

freely? - free

Personal Letterhead Template

The use of a personal letterhead template for Google does not require the need to have special skills and knowledge in the area of graphic design and text editing!

freely? - free

Santa Letterhead Template

The process of writing a letter to this magical character represents an integral part of the New Year's routine!

freely? - free

Company Letterhead Template

The company letterhead template for Google Docs is the primary way to save time and financial resources to achieve the desired results.