Tri Fold Brochure Template For Google Slides & PowerPoint
There are many different ways to position a product or service. One of the most popular and effective ways includes print advertising. A person's life faces it every day. There are many ways to distribute printed materials. Every day, millions of people around the world receive advertisements:
In mailboxes
On the street from promoters
At exhibitions
Brochures can be found everywhere and are also massively distributed. The use of the tri-fold brochure template for Google Slides can become the most effective way needed for the development of this type of the files. Their structure provides the users with a chance to reflect a lot of data related to the features of the service or product, favorable conditions for cooperation and promotions. The online resource can turn into the crucial ability to save time and effort necessary for the development of the complex promotional campaign.
The tri-fold brochure templates for Google Slides involves different options for the further editing leading to an increase in the productivity of the working process. The effectiveness of this type of advertising media is very high. For a certain category of goods, special brochures are provided. They can have only an advertising character without the presence of any other goals. The function of brochures involves informing potential customers about a product, service, and persistent conviction of the need to purchase it. The number of goods is growing.
The level of competition increases. An advertising manager has become quite a popular profession. Almost all enterprises have entire departments responsible for promoting products. The creation of the brochures represents an integral part of the advertising campaign by improving the process of promotion. This approach can turn into an effective method to expand the target audience of customers and buyers.
Next
How to edit template in 3 steps?
Step 2

Choose file (in menu)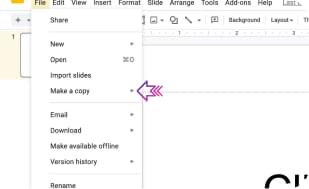 freely? - free

freely? - free

Blank Brochure Template

The blank brochure template for Google Slides provides the users without experience in the area of text editing and graphic design

freely? - free

Slides 3 Panel Brochure Template

Free 3-panel brochure template for Google Slides is perfect for advertising a bar, café, or beauty salon. It has a place to specify the name and contacts of the location and describe your advantages.

freely? - free

Slides 4 Panel Brochure Template

It is a very elegant and stylish layout. The existence of four panels will give an opportunity to tell customers about your business as fully as possible.