Сreative Director Letterhead Template For Google Docs & Word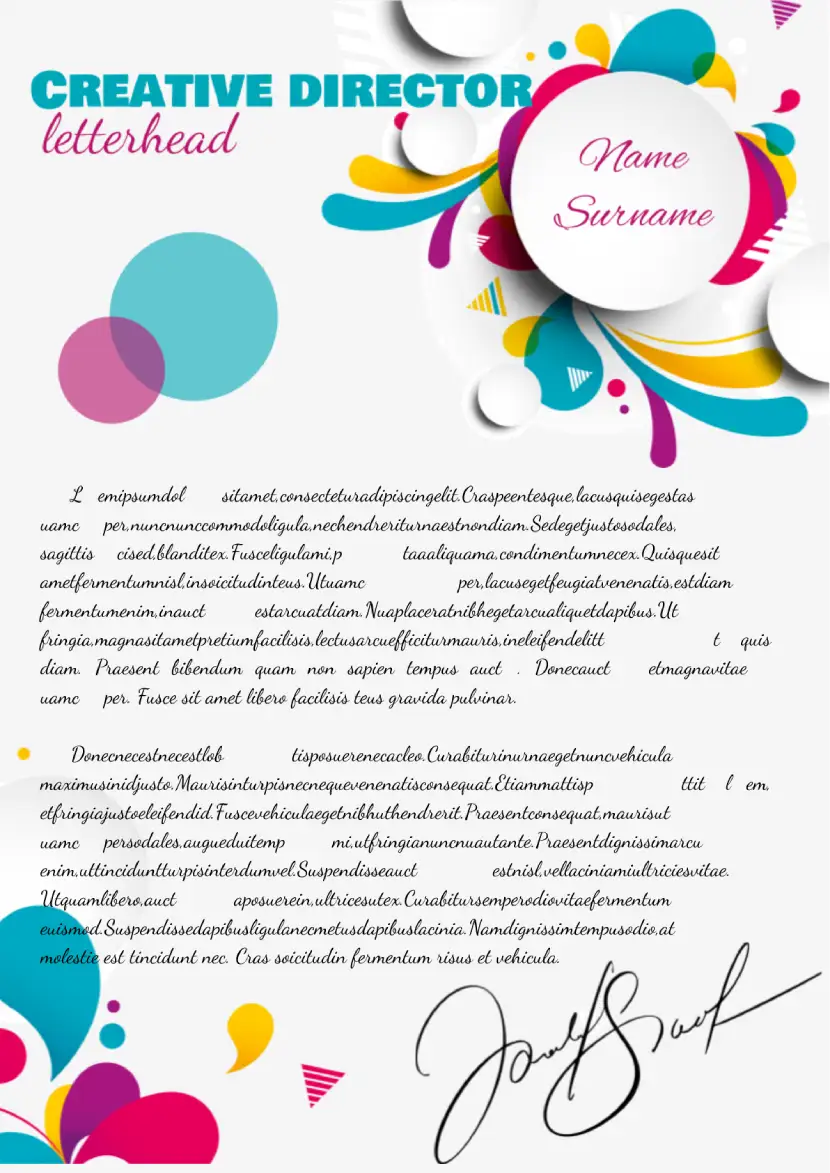 The positions of the creative director imply a huge number of the duties and the responsibilities. At the same time, this specialist is a corporate image bearer and legislator by making every effort to communicate with different specialists in the company and outside of it to complete the necessary working tasks.
The creative director letterhead template for Google Docs plays a crucial role during the daily routine of this professional. This document represents a background for the communication of the specialists with the clients and colleagues. In this case, the Google Docs letterhead templates allow you to create such files as:
Marketing strategy
Promotional campaign
Different types of appeals
Official letters
The creative director letterhead template for Google Docs can save the time of the users by allowing them to focus on the content that they need to create to fill the documents. The file already has well-thought-out design and structure to meet the needs of the specialists holding the position of creative director. This professional has different tasks every day.
Consequently, the use of the templates can increase the effectiveness of the working process by allowing you to perform routine tasks faster. The shared access to the files can become the main approach for the proper delegating tasks to other specialists. They also should not have any specific skills and knowledge for the development of the professional creative director letterheads to communicate with any categories of the business market participants taking an active part in any area of activity.
Do not lose your chance to use the benefits of the online resource in the form of the advanced templates by turning them into an integral; part of the everyday working process. You will obtain an opportunity to achieve more goals by completing more assignments.
freely? - free

freely? - free

Letterhead Сommunity Service Template

The use of a letterhead community service template for Google Docs provides an opportunity to avoid this issue by having no need to spend additional time to complete the tasks related to the development of letterheads!

freely? - free

Personal Letterhead Template

The use of a personal letterhead template for Google does not require the need to have special skills and knowledge in the area of graphic design and text editing!

freely? - free

Santa Letterhead Template

The process of writing a letter to this magical character represents an integral part of the New Year's routine!