Boost Business Template For Google Slides & PowerPoint
Business processes require constant participation of specialists in these procedures to provide the companies with all necessary tools for the development and improvement of their activities. This point is especially evident when it comes to an analysis of the highly competitive business environment.
The use of the boost business template for Google Slides provides the specialist with an opportunity to show the ways for the improvement of an activity of the companies through the introduction of certain strategies. The use of the templates will be effective during the development of the presentations for:
Meetings within the company
External negotiations with competitors
Activities to increase the level of employee motivation
The boost business template for Google Slides gives you a chance to focus on the details of the presentation. You can use all the benefits of the online resource offered by the website to present the presentation of high quality.
The gallery with the business templates for Google Slides provides you with the needed options to create the presentation as a part of the group project aimed at the improvement of the company's performance. This way is usual for the brands with a huge number of workers.
They have to collaborate to demonstrate the most effective level of the working process to increase the profitability. The use of the flies represents the best approach to support speech with visual materials by making it clear for the broad audience.
You should use all the benefits provided by the online resource to increase the competitiveness of your company. This action algorithm is a source of the abilities to increase the number of potential clients, and investors.
Next
How to edit template in 3 steps?
Step 2

Choose file (in menu)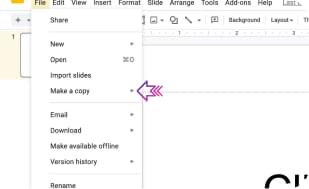 freely? - free

freely? - free

freely? - free

freely? - free