Recipe Thanksgiving Turkey Template For Google Docs & Word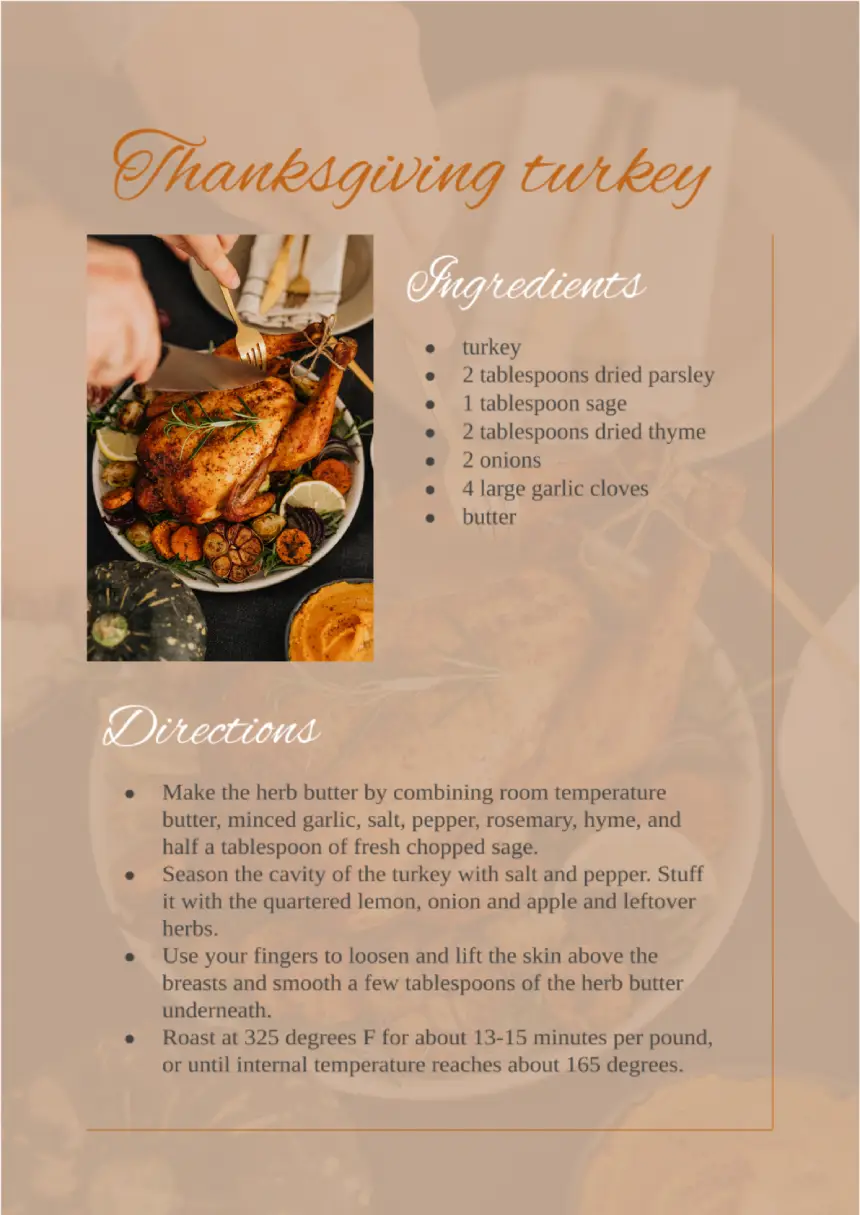 Thanksgiving Day is the most anticipated holiday of the year for all Americans. It is synonymous with family warmth and well-being. The baked turkey is the main attribute of the menu on this holiday. The specific nuances of the celebration are a basis for the creation of a special atmosphere. This approach is especially important when it comes to the necessity to emphasize the details of Thanksgiving Day.
The individuals try to share the feelings of joy and gratitude. They make every effort to achieve the atmosphere of family warmth in return. The use of the Thanksgiving recipe template for Google Docs can become the best method to keep the recommendations for cooking the dishes needed for this celebration. The templates can turn into a foundation to show the recipes of the different dishes to celebrate Thanksgiving Day:
Butter-and-Herb Roast Turkey
Buttermilk Cornbread Stuffing with Sausage
Leek and Potato Gratin
Green Bean Salad with Red Onions
Brussels Sprouts with Bacon and Roasted Chestnuts
Sweet Potatoes with Ancho-Maple Glaze
Cranberry and Dried-Cherry Sauce
Pumpkin Cheese Bread
You will have no restrictions associated with the design of the documents and their structure to use the recipe Google Docs templates of the most delicious dishes. The Thanksgiving recipe template for Google Docs can become a source of the positive emotions and family atmosphere necessary to enjoy the celebration. You can ask your friends and relatives to join you to complete the template.
At the same time, you can share the recipes of your favorite dishes for Thanksgiving Day with your friends by providing them with a chance to feel the magic moment. Do not lose the ability to cook this dish with your friends and family members by allowing them to receive fantastic emotions from this process.