Event Itinerary Template For Google Docs & Word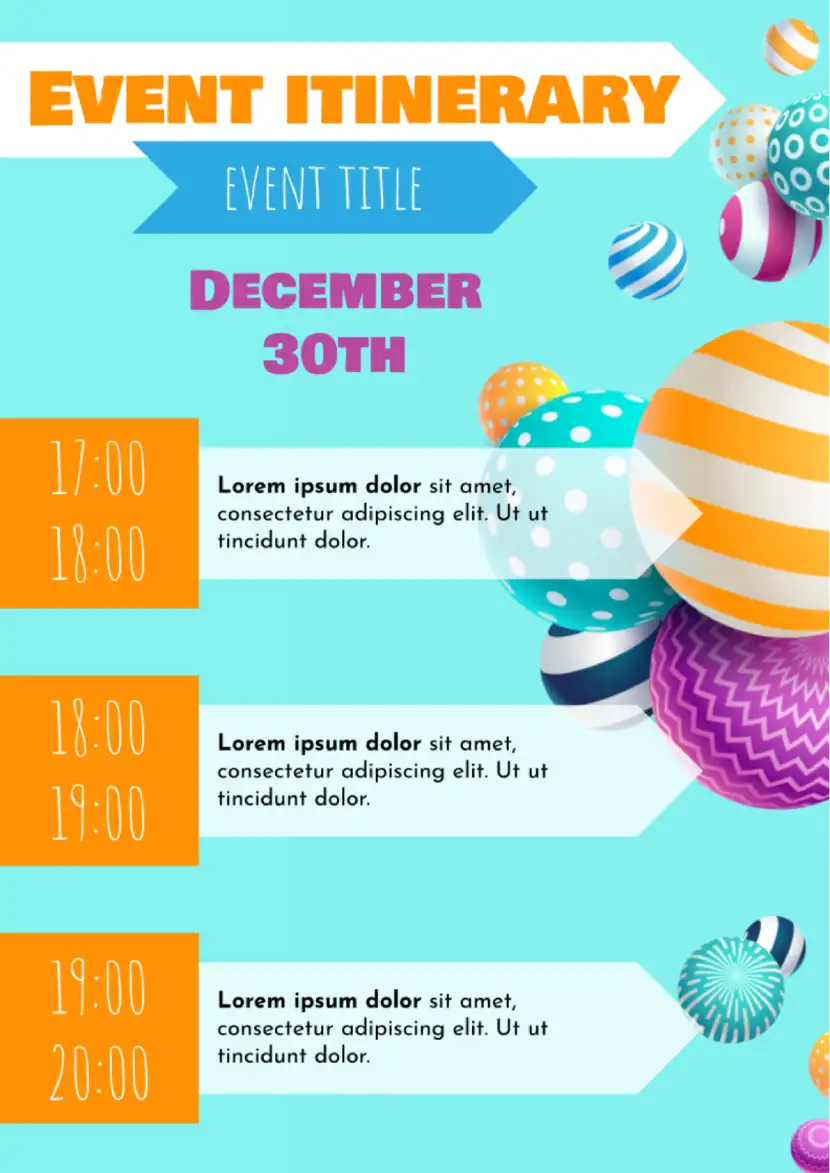 Event organization needs the synthesis and analysis of information necessary to achieve the desired outcomes. The event itinerary template for Google Docs is the best method to plan financial expenses without involving experts in the process. Have you ever given up on a party because of your lack of skills in organizing it? Most people experience negative emotions in this situation.:
The templates can demonstrate the necessary details of the event depending on their significance. This approach can be especially useful when organizing business meetings necessary for the growth of a particular business through finding like-minded investors, clients, and new employees. The template can involve the significant information including:
Name of the event
Date
A detailed plan of the event
Place of the event
An event contacts of the organizers
The event itinerary template for Google Docs allows you to have no experience in this area to obtain the perfect results. This file can simplify the process of the event organization by providing you with an opportunity to follow the steps described in the event itinerary. This approach increases the quality of the outcomes occurring after the end of the event. You can introduce any kinds of the changes to fill the template with the necessary information.
You can advise your friends to use this online resource for the development of event itinerary to help them achieve their professional and personal goals. You can use the creative design and well-thought-out structure of the template to visualize the action plan needed for the organization of the event as the primary way to achieve success in your area of activity. The itinerary templates for Google Docs allow you to save time and effort needed to complete this task.
freely? - free

freely? - free

freely? - free

Trip Itinerary Template

The trip itinerary template for Google Docs is the perfect tool for visualizing spreadsheets with profitable flight and hotel accommodation deals!

freely? - free

Vacation Itinerary Template

The use of vacation itinerary template for Google Docs allows users to combine information from multiple sources to choose the best hotel and type of transportation to get to their destination!