Real Estate Bill Of Sale Template For Google Docs & Word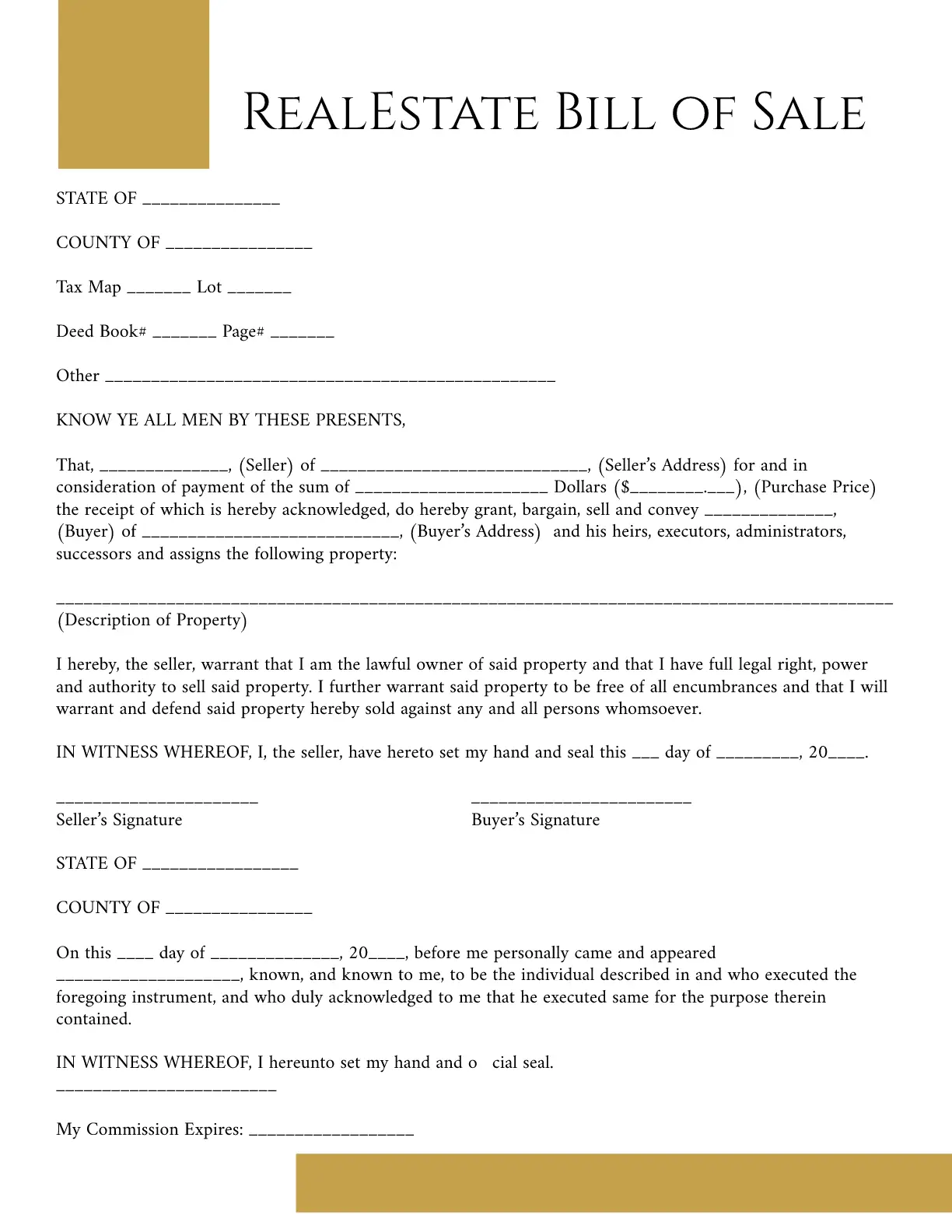 The real estate bill of sale template for Google Docs can provide the individuals with an opportunity to use already developed files to:
Save time needed to complete this task
Avoid financial expenses
Have no necessity to look for a specialist in this field
With the transition to a market economy, the main stake was placed on ensuring that the need for housing is satisfied not only at the expense of public consumption funds, but also at the expense of housing that would be privately owned by citizens.
Many of the citizens have become homeowners. The conclusion of a contract of sale is one of the main ways of acquiring ownership. However, the rules of property law are not intended to regulate all the relations arising from it.
The real estate bill of sale template for Google Docs allows the individuals to include the necessary data into the files by following the structure developed by the online resource. Cost and price of real estate concept, types of value and prices. Property appraisers, including technical inventory bureaus. Methods for assessing real estate, including income-generating. Accounting for the assessment of factors affecting the value of the property. Drawing up a certificate of real estate valuation, its contents. The main provisions of the real estate appraisal agreement. Responsibility of the parties.
Transactions with non-residential real estate. Lease of a land plot, including under construction objects. Rent of non-residential funds. Methodological approaches to determining the price of rent. Sale of real estate through the privatization of enterprises. Features of the sale of objects of imperfect construction. Organization of the sale of property complexes through tenders, auctions, corporatization. The contract for the sale of the property and its content. Registration of transfer of property rights to real estate objects. Conditions and forms of entry into property rights. Registration of transactions with real estate and rights to it.
freely? - free

freely? - free

freely? - free

Car Bill of Sale Template

The use of the car bill of sale template for Google Docs can significantly simplify the process of the development of a mandatory document for this transaction.

freely? - free

Bill For Services Rendered Template

The bill for services rendered template for Google Docs is the most effective way for the development of the documents needed to receive money for the performed work!