Car Bill of Sale Template For Google Docs & Word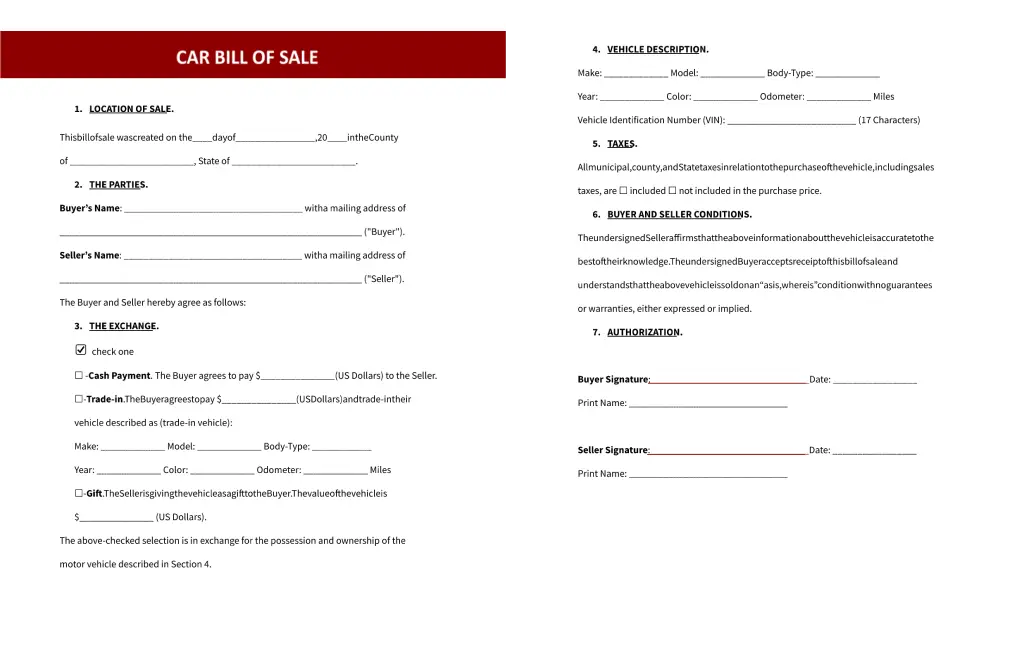 Sooner or later, the car owner has to deal with the need to replace the car and purchase a new one. If a person sells a car for the first time, he/she has a lot of questions regarding the process of registering a car purchase and sale, procedures and rules. How to profitably sell a used car, how to prepare a car for sale and protect yourself from scammers, what documents are needed to draw up a contract?!
The same questions and issues occur among the buyers expressing a desire to select the desired car. In this case, the use of the car bill of sale template for Google Docs can significantly simplify the process of the development of a mandatory document for this transaction. It should include such categories of data as:
The locations of sale
Data about the parties
Vehicle description
Details about the process of the exchange
Taxes
Authorization
The car bill templates for Google Docs will allow the users of the online resource to take into account all the nuances of the transaction. This approach can save your time by providing an ability to focus on an analysis of the expediency of purchase and characteristics of the car. In this case, you will face no issues related to the possible violation of the law during the transaction.
It is your chance to buy a desired car by enjoying this process without the need to pay the specialists for their support. You will save money and time that you can spend on other processes related to the purchase of a new car. You will make these templates an integral part of any procedures dedicated to the sale or purchase of a car.
freely? - free

freely? - free

freely? - free

Real Estate Bill Of Sale Template

The real estate bill of sale template for Google Docs can provide the individuals with an opportunity to use already developed files

freely? - free

Bill For Services Rendered Template

The bill for services rendered template for Google Docs is the most effective way for the development of the documents needed to receive money for the performed work!