Meet The Teacher Template For Google Slides & PowerPoint
The introduction of Google Slides template to develop files related to the first meeting with the teacher can allow all users of the online resource to develop the visual files for the achievement of the planned goals. This process requires no specific experience to obtain the desired outcomes of the learning process.
The template for the creation of the slides needed during the first meeting with the teacher involves a certain structure to become the most effective and informative file. This type of the visual files should focus such features as:
Data about the working experience
Information about hobbies
Slides of the crucial educational strategies followed by certain specialist
Information to the family, preferences, and interests
Materials that play the role of screen means for modern students are common and favorite, and meeting with them in the classroom gives them joy and forms a positive attitude towards the subject by having an educational impact. The use of auxiliary materials allows the teacher to expand the range of situations within the same topic being worked out, each time introducing new that arouses interest among students by giving them an impetus for statements. Therefore, the templates allow you to more fully implement the communicative orientation of the learning process.
This kind of presentation has no generally accepted forms. You can edit any details of Google Slides templates for teachers to meet your preferences by developing the visual materials to organize this event. You will enjoy this process by getting only positive emotions after the informative meeting needed to share the personal data with the students. Do not lose this chance. The templates can give you additional opportunities.
Next
How to edit template in 3 steps?
Step 2

Choose file (in menu)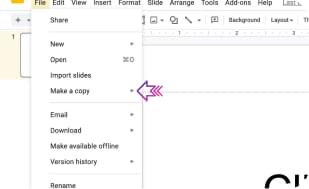 freely? - free

freely? - free

freely? - free

Lesson Plan Template

The lesson plan template for Google Slides can support the teachers and students during the process of the education!

freely? - free